Benefits on getting a Massage:
The purpose of massage is to relax the tissue, increase the flow of blood and oxygen, and decrease pain. The following are some common types of massage therapy: … The therapist applies deep focused pressure on knots that can form in the muscles and cause symptoms in other parts of the body.
relieve stress
Relieve postoperative pain
Reduce anxiety
Manage low-back pain
Help fibromyalgia pain
Reduce muscle tension
Enhance exercise performance
Relieve tension headaches
Sleep better
Ease symptoms of depression
Improve cardiovascular health
Reduce pain of osteoarthritis
Decrease stress in cancer patients
Improve balance in older adults
Decrease rheumatoid arthritis pain
Temper effects of dementia
Promote relaxation
Lower blood pressure
Decrease symptoms of Carpal Tunnel Syndrome
Help chronic neck pain
Lower joint replacement pain
Increase range of motion
Decrease migraine frequency
Improve quality of life in hospice care
Reduce chemotherapy-related nausea
Shiatsu massage
Shiatsu is a non-invasive therapy that may help reduce stress and contribute to overall well being. … Shiatsu can be used in the treatment of a wide range of internal, musculo skeletal, and emotional conditions. It is thought to reduce muscle stiffness, stimulate the skin, aid digestion, and influence the nervous system.
Trigger Point Massage
A trigger point is a tight area within muscle tissue that causes pain in other parts of the body. A trigger point in the back, for example, may produce referral pain in the neck. Receiving massage with trigger point therapy on a regular basis can help naturally manage pain and stress from chronic injuries
Thai Massage
Traditional Thai massage is an ancient healing system that combines broad and targeted acupressure, stimulation and manipulation of energy lines called sen, and assisted yoga postures
Neuromuscular Therapy Massage
Neuromuscular therapy consists of alternating levels of concentrated pressure on the areas of muscle spasm. The massage therapy pressure is usually applied with the fingers, knuckles, or elbow.
Hot stone Massage
Hot stone massage is a type of massage therapy that involves the use of smooth, heated stones. The localized heat and weight of the stones warm and relax muscles, allowing the massage therapist to apply deeper pressure to those areas without causing discomfort.
Cold stone Massage
A cold stone massage is perfect for the coolness and invigoration that they seek. Athletes who have sustained injuries can also benefit from a cold stone massage.Cold marble stones are used in conjunction with hot stones during contrast therapy. Select from many sizes and shapes
Relaxation Massage
Relaxation massage is a smooth, gentle, flowing style that promotes general relaxation, relieves muscular tension, plus improves circulation and range of movement. This is the style of massage you'll find performed at day spas
Aromatherapy Massage
Aromatherapy massage is Swedish massage therapy using massage oil or lotion that contains essential oils (highly concentrated plant oils). During aromatherapy massage, you inhale these essential oil molecules or absorb them through your skin.
Body Reflexology Massage
Reflexology is the application of appropriate pressure to specific points and areas on the feet, hands, or ears. Reflexologists believe that these reflex points correspond to different body organs and systems, and that pressing them creates real benefits for the person's health.
Swedish Massage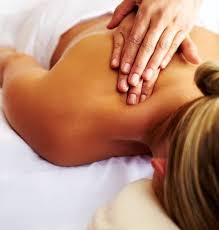 As the best-known type of bodywork performed today, one of the primary goals of the Swedish massage technique is to relax the entire body. This is accomplished by rubbing the muscles with long gliding strokes in the direction of blood returning to the heart. But Swedish massage therapy goes beyond relaxation.
Deep Tissue Massage
Deep Tissue Massage. Deep tissue massage therapy is similar to Swedish massage, but the deeper pressure is beneficial in releasing chronic muscle tension. The focus is on the deepest layers of muscle tissue, tendons and fascia (the protective layer surrounding muscles, bones and joints)
Cranial Sacral Therapy
CranioSacral Therapy (CST) is a gentle, hands-on approach that releases tensions deep in the body to relieve pain and dysfunction and improve whole-body health and performance.
Hymalayan Salt Stone
Himalayan Salt Stones contain 84 naturally occurring minerals. The minerals provide a gentle exfoliation on the skin, making the skin feel smooth and soft after your massage session. Himalayan Salt Stones give off negative ions. … The minerals in the Himalayan Salt stones assist in the detoxification process of massage
Sports Massage
ports massage is a form of bodywork geared toward participants in athletics. It is used to help prevent injuries, to prepare the body for athletic activity and maintain it in optimal condition, and to help athletes recover from workouts and injuries
Prenatal Massage
Massage therapy during pregnancy is a wonderful complementary choice for prenatal care. It is a healthy way to reduce stress and promote overall wellness.Massage relieves many of the normal discomforts experienced during pregnancy, such as backaches, stiff neck, leg cramps, headaches and edema (or swelling).
Postnatal Massage
Basically, like any type of massage, it helps with tiredness, aches and pains that are associated with childbirth, promote blood circulation, helps removal of toxins, and helps you to relax.
Chair Massage (customized per client)
15 minutes……………………………………
30 minutes…………………………………..
45 minutes…………………………………..
A chair massage is fully clothed massage that focuses on the upper body. … The therapists are trained to manipulate the areas of greatest tension, including the neck, shoulders, back, arms and hands, by using massage and acupressure points to help calm the nervous system